Looking at how to transfer funds to your betting website of choice safely? Neteller India is a great option. It is a reliable e-wallet service used by many bookmakers around the globe. Funding and withdrawing from your betting account is swift. The bonus part is that they are free of cost.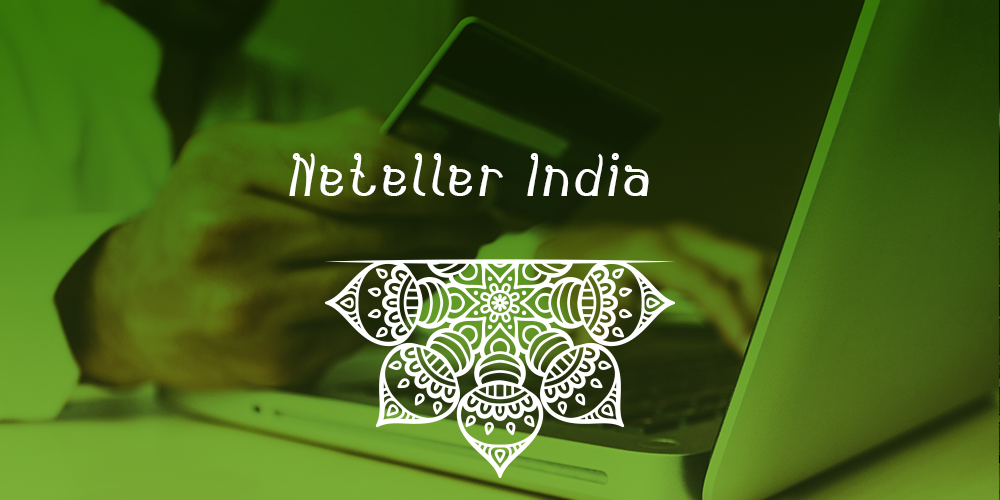 It also works with other online payment companies by taking part in programs like the MasterCard SecureCode and Verified by Visa programs. Betting sites that accept Neteller include 888sport, Bet365, Royal Panda, Unibet, William Hill, etc. Let's dive into Neteller India Review.
About Neteller
Neteller.com is a famous e-wallet service in the online gambling sector. Started in 1999, the brand is operated by Optimal Payments Limited. It operates in more than 200 countries, including India, under the supervision of the Financial Conduct Authority UK.
Since its inception, it allows gamblers to transfer money into their betting accounts without leaking their sensitive details. Convenience, speed, and security make Neteller one of the most reliable payment options for gamblers.
This free online e-wallet service acts like an online bank account. Once you have created a Neteller account, you can add funds via your debit card, credit card, or other methods. You can use that money to deposit at your favorite betting platform. When you want to cash out, request an e-check, bank transfer, or bank draft online. You will get the money back in your account in less than one week.
How to Start Pay with Neteller in India?
Creating a Neteller account does not take much time. It can be completed in a few steps shown below:
Register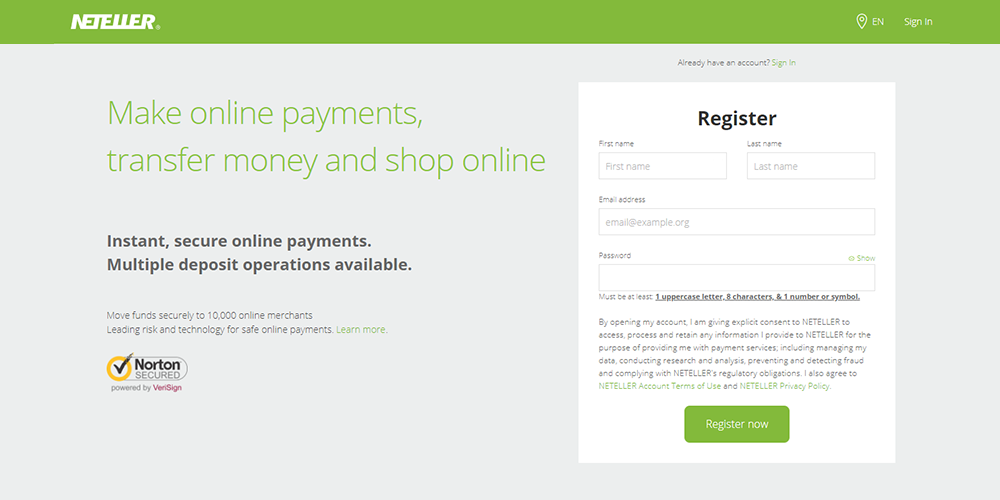 Go to Neteller and Hit Join for Free. Visit the Neteller website and hit the button located in the top right – "Join for free."
Fill the Registration Form. Fill the signup form and hit the "Open account" button at the bottom of the site. You will be prompted to the next screen where you will see a signup form. Fill in your details like email, first name, last name, etc.
Choose a Password. Now you need to create a strong password. Save your Neteller Secure ID that will pop up on the next screen.
Confirm your Email and Account. Confirm your Neteller account by clicking on the email sent to you by Neteller. For confirming your account, call the Neteller team, or they will call you. Thus, make sure you have access to the number that you added in the Neteller signup process. Also, keep all the information handy as they might ask some questions regarding your Neteller account.
Fund your Account
Link your bank account to Neteller and deposit some money in your Neteller account for using it for your favorite online bookmaker with Neteller. Now pick your country and currency you want your account to have.
You will see over 28 different currencies. Once selected, you won't be able to change it later on. Thus, make sure that you pick the account currency wisely. Indian users can choose Indian Rupee as their primary account currency.
Pick Gambling or Non-Gambling Account
During funding your account, you need to choose between gambling or non-gambling accounts. Remember, the majority of Indian banks allow fund transfer for non-gambling purposes only. Thus, if you are thinking of using your money for gambling, use another e-wallet service like Skrill.
Betting Sites With Neteller Support
Set Security Questions and Your Pin
After depositing money, you will need to set three security questions for verifying the account. This is beneficial in case your account gets blocked, and you need to make it active again. After filling it, we advise you to take a screenshot of the page and save it on your device. You also need to set a six-digit pin code for making transfers with the Neteller account.
Verify Your Identity and Your Residential Address
Verifying your identity is also vital because you need to upload a copy of official documents like Driver's License, International Passport, etc. Upload any document that validates the address you added on registering, like a bank statement or utility bill.
Visit Top Betting Site and Fund it
Now go to the best Neteller Betting sites in India and log onto your existing account. If you do not have an account, sign up. You can then proceed with making deposits into the sportsbook account.
Is Neteller Accept Rupees?
Yes, Neteller India can handle a wide variety of currencies such as INR, EUR, GGP, etc. This allows players from India and other parts of the world to enjoy gambling.
Is Neteller Safe in India?
India has a vast number of cricket admirers around the globe. But there are also legal restrictions on cricket betting in India. When depositing and withdrawing money from the cricket betting website, punters need to consider some regulations to stay safe.
If you are an Indian, you can create a Neteller account and use this oldest payment processor to fund your gambling site account without any regulatory restrictions. Remember, there is no Indian law or Government policies that restrict Neteller use for transferring funds. Most famous Indian Banks also support this e-wallet service. They will transfer to your Neteller account in 1 to 3 business days as long as it is for non-gambling purposes.
Neteller also does not offer a track of transactions to the Indian Government, unless requested by the Court. This means you can make transactions to your favorite online cricket bookmaker without any fear.
However, it is advised to satisfy all the laws of your country while transferring funds from India to overseas betting accounts.
Choose Neteller as Deposit Option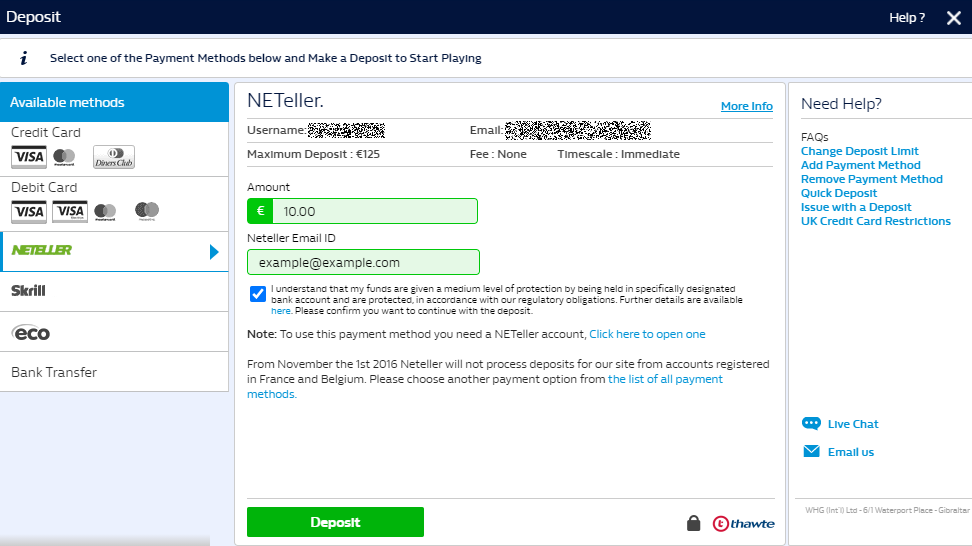 Using Neteller is secure, easy, and convenient. To get started with any sports betting site, you need to fund your account. Also, make sure that the operator accepts Neteller.
Visit the betting site and then pick the deposit options
Select Neteller as the payment method.
Select the amount you wish to transfer from your e-wallet into your gambling account.
A login window for the Neteller account will pop up.
Log in and hit the submit button to complete the Neteller India login process.
Remember, different sports betting websites with Neteller come with different deposit limits. You can transfer funds to your Neteller account using the most popular payment options like MasterCard, VISA, Bank Transfer, or other.
All deposits are instant, and the deposit amount gets debited from the e-wallet balance. Users get payment confirmation using the registered email. There are fees associated with funding methods. This differs depending on what you pick. Thus, it's best to look at the fees section of the Neteller site. This helps you to identify which payment option works well for you.
Furthermore, Neteller India withdrawals are different from the deposit process. Online sportsbooks will hold your withdrawal amount for a minimal lock-in time. This can differ from a few hours to 48 hours or more.
Once the sports bookie has approved your withdrawal request, the funds will appear in your account right away. While using Neteller for depositing money in your betting site, do not mention anywhere about gambling and betting.
Make sure that you select the same payment method for deposit and withdrawal. It is because every time you do a new transaction using a different method, you need to verify the transaction. In the case of more than one deposit from different betting accounts, the betting site will divide them according to the ratio of deposits made from every payment method.
Funding and Withdrawing Money from Skrill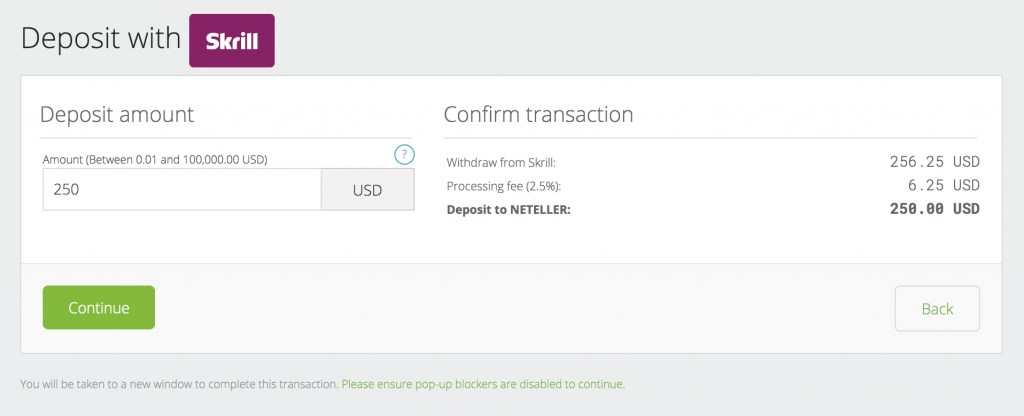 Depositing money to your Neteller account from Skrill is easy. Steps to Deposit Money to Neteller from Skrill:
Login to Neteller Account. Firstly, log in to your Neteller account using your credentials.
Click Money-In Option. Then hit the "Money in" option. This will show different deposit options, including Skrill.
Select Skrill. Pick Skrill as a deposit option and add the amount you wish to deposit. Click on the "Continue".
Login to Skrill Account. Now you will be redirected to a page to log in to your Skrill account. Fill your correct details and log in. Once in, you will see your available balance.
Hit Pay Now. Click on the "Pay Now" to complete your transaction. Now hit the continue button to return to your Neteller account. You will soon get a confirmation message that your transaction has been processed successfully.
Steps to Withdraw Money from Neteller to Skrill
Withdrawals profits from Neteller can be performed using many ways. This includes withdrawals to Skrill, Indian bank, or a merchant website. A 3.99% exchange fee is involved in case the transaction includes changing currencies.
The steps for withdrawal to a Skrill account are shown below:
Login to Skrill Account
Hit Deposit. Click on the deposit button and pick Neteller as your preferred option. Then, hit "next." Add the desired amount that you want to
Add Email and Code
Now add the email address registered to your Neteller account along with six-digit code. Hit the upload button to finish the withdrawal process.
Remember, the top betting sites with Neteller Indian takes minimal time to process the funds. The best way to know the exact time is to get in touch with the gambling platform using a live chat. Typically, Neteller India deposits are reflected immediately. Payouts are processed within 24 hours.
Verify Your Neteller Account for Safe Pay
It is vital to verify the Neteller account with an Indian bank linked to it so that you will be able to withdraw funds hassle-free. There are numerous ways to pass account verification:
Using Your Bank Account
To do that, go to the Account Summary page.
Hit "Register Bank Account."
You will then need to add bank information. This will include the bank's name, bank account number, IBAN, SWIFT code, your country, account name, and other data.
You will need to submit a photocopy of gas, utility bills.
Using a Valid ID Proof
Sign in to your Neteller account.
Deposit a token amount for the verification.
Hit 'Verify your account' button on the account summary page.
Click on the 'Start verification' button to start verification of your account.
Upload a scanned photocopy of your ID proof such as passport, driver's license, etc. Make sure your address is clearly visible on it.
Remember, you need to offer a selfie or undergo a web camera session.
For address verification, give your location access and hit the geolocation option.
It might be possible that you are not verifying using your registered address. Thus, it might fail. For this, you need to upload a utility bill. Your Neteller account verification will take several days. Once you pass it, you enjoy higher limits and other depositing options.
Neteller India Mobile App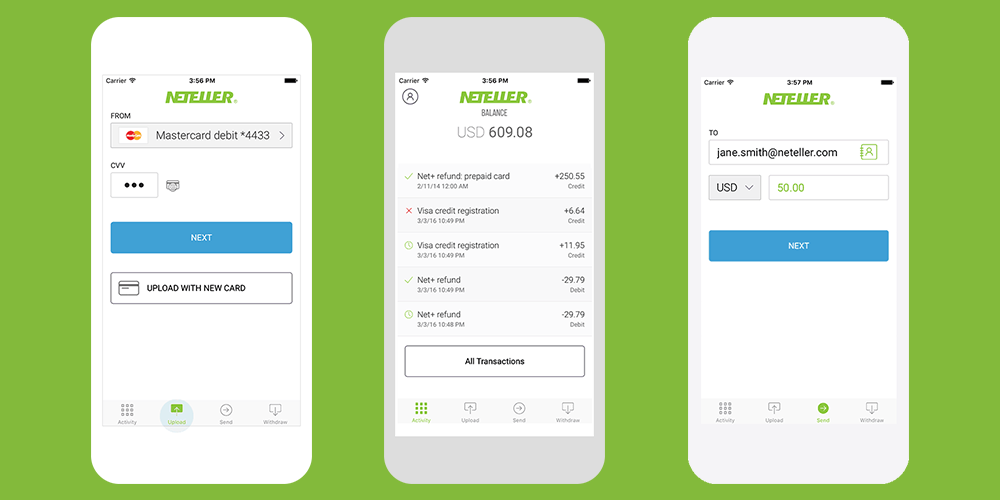 Most online betting sites also support the Neteller Indian app. It is meticulously built to offer the best mobile experience. Users need to visit the Google Play Store or iOS Store to download it. This makes it simple for the users on-the-go to check their balance, upload funds, etc. Neteller application offers the same speed and functionality as on the desktop platform.
Pros and Cons
Neteller offers several pros and cons:
Pros
Neteller offers benefits over other e-wallet services. This includes:
Simple to Use
Neteller is so easy to use that all you need to create is a user account, which takes less than a few minutes. This is an easier option as tons of local banks prevent deposits to betting wallets online.
High Speed
Neteller is a fast means of fund transfer as it is completed in seconds. There are no more complex details to remember and no more additional fields that take much time.
Convenience
Punters can use Neteller to fund at any betting site and also for other online payments and transfer services.
Support Indian Rupee
The biggest benefit is that Neteller supports INR. Thus, Indian punters do not need to worry about exchanging their currency.
High Reputation
Neteller has the highest success rate in India, unlike other payment methods available. There also have been no reports of failed deposits or any transfer delays yet. That is why it is trusted by millions of people across the globe.
Free Withdrawals
The best betting website will transfer your profits to your e-wallet account from which you have made the deposit. This makes withdrawals instant and free of cost. Also, every Neteller customer enjoys the same transaction limits. But when you become a VIP member, you can request to raise your limits.
Security
E-wallets add extra security to your online transactions by keeping all your gambling transactions private using advanced encryption protocols. The security check allows each user to fill a pre-defined password every time they perform a transaction.
Moreover, betting sites that accept Neteller also take security very seriously. This means all your money will stay safe, whether you are betting on the Cricket World Cup, Indian Premier League fixtures, etc.
Rewards
Betting sites with Neteller support also provides promotional offers and freebies to the customers. If you use it on a daily basis with high turnover, you will become a member of Neteller VIP membership. Thus, it's best to keep an eye on the Neteller promotional offers. You will never know when they will operate the one that suits you.
Cons
Apart from the good sides of Neteller, there are also bad sides. It includes:
High Exchange Fees
You must pay attention when you decide to upload money to the Neteller account using different methods. It is because foreign exchange fees are a little bit higher with Neteller.
Customer Support Not Available 24*7
Due to the stringent security, it is also a case where you could get locked out of the account. But sadly, Neteller does have live agents that are available to offer assistance 24 hours a day.
Neteller Can Suspend Your Account
Another disadvantage of Neteller is that it can suspend your account quickly. Remember, it is a protocol for additional security checks. This e-wallet service will send you an alert or ask you to withdraw your funds before blocking your account.
Conclusion
Neteller India is an excellent and safe payment gateway to deposit and withdraw money when gambling online. Registering is also free, simple, and fast. Neteller also deploys excellent security measures that include constant monitoring and multiple firewalls.
Being able to enjoy it on the phone adds additional perks to it. You can use the Neteller application to transfer funds across the globe using a tablet or smartphone. Since this e-wallet operator is accepted by many multiple betting sites, don't forget to reap perks of bonuses or odds between the platforms. There are also other platforms that let you exchange, sell and buy Neteller and Skrill in India.