ComeOn App Review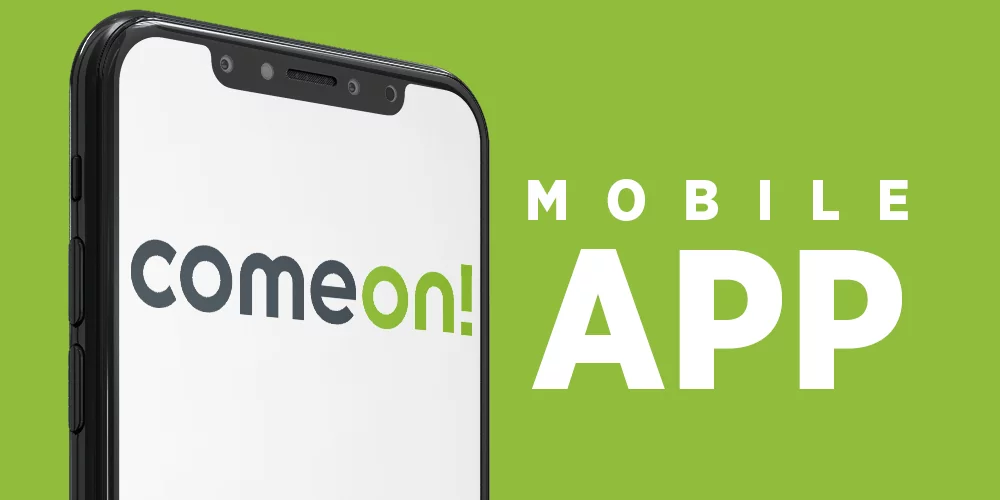 Fancy an online sports betting site packing a live casino. ComeOn app was launched in 2008 and initially majored in casino and poker. With the advancement of time sports betting has been incorporated. ComeOn is an excellent well-established betting site.
The App is highly popular in the United Kingdom, Germany, and Sweden. This has set it apart from its major competitors. Boasting several licenses and regulations in the EU clears any doubts concerning its legitimacy. Having the best on-site security, optimum safety for users is ensured.
ComeOn is an online gambling site with a variety of options to choose from. It is available on both desktop and mobile applications. It offers a seamless experience navigating through the site. A wide range of payment methods is allowed. With easy withdrawals and a ComeOne bonus).
ComeOn Overview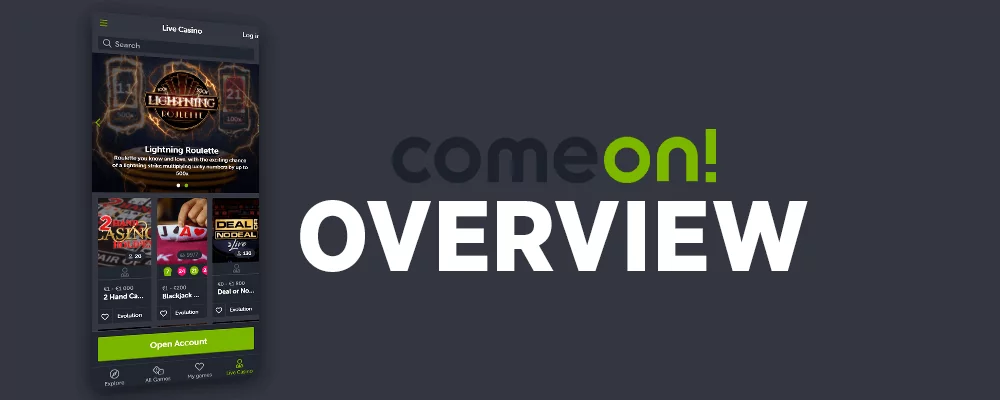 The ComeOn App, owned by the Co-Gaming Limited, was founded in late 2009 and immediately became one of the most prominent bookmakers of the time. It is regulated by Malta Gaming Authority and operates 13 main brands.
These brands are mainly on casino products with licenses also in the UK under the UK Gambling Commission which means it is a trusted betting site. The bookmaker has overwhelming support from sports fans all over Asia as well as Scandinavian countries.
The ComeOn App Betting Features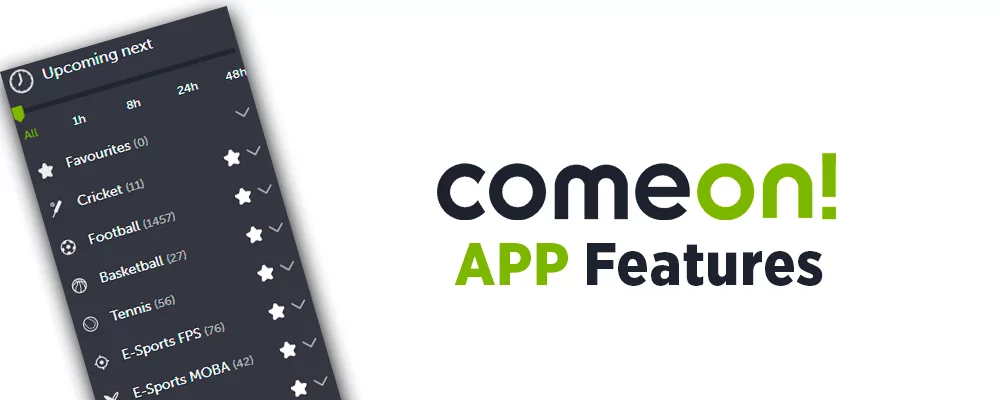 The ComeOn App was started with one objective; to provide the best betting games to sporting fans. Some of its best features are;
ComeOn Sportsbook
The app is packed with hundreds of online games, mostly football and a cluster of other events. With a cluster of over 60000 games, you are kept busy every minute of the day so that you do not need to visit other sites.
In-play betting
This App is amazing, one of its kind, allowing you to bet while the game is streaming live. What an inspiration for a betting enthusiast to bet on screen as the game progresses.
This is one of the features that endear many to the ComeOn App since you can study the game statistics in real-time and make a probable prediction. With the growing love for sports, you wouldn't want any action and still bet. This is why ComeOn comes top with its in-play functionality.
ComeOn casino
Your casino experience is more enhanced with the easy-to-navigate ComeOn App casino games. The site is awash with various online games that keep you awake twenty hours a day. And they pay too so that you are without any reason to complain.
Bet cash out
The app is embedded with cash-out functionality that allows you to trigger cash-out while the game is ongoing. What a relief to know that your funds are safe since you can make an informed decision to cash out before the game ends if you detect a down-surge.
The objective is to take out your profit during the in-play event even if the match and the odds go against the bet. That means you can close the bets you place during the pre-match and live coverage before the game comes to a close. You can wholly or partially cash out current bets, and the value depends on the original odds, stakes, and current odds.
Odds boost
The bookmaking industry has come of age with more investors jumping into the fray. That means there is more competition and more stakes as well. As a result, some companies pull the crowd by offering bonuses while others use the Odds.
Whereas bonuses may lure you to join and play, did you know better Odds can be a potential to make great wins? That is where ComeOn App takes the lead with its Odds Boost functionality.
The ComeOn App has integrated its system with the Odds Boost capability of over 10% to provide you with a probable resounding win for your bets.
Promotions and bonuses
Installing this app comes with more goodies like access to more promotions online. With numerous online promotions, your online experience will be more thrilling. Some of these promotions often translate into cash and elevates your sporting morale. ComeOn just understands what you need to keep going.
Live streaming
Due to its ability to stream and bet in real-time, the app has been harnessed with the latest features to provide you with amazing visual qualities for online viewing. The latest graphics are customized for any mobile device so you wouldn't struggle while doing In-play betting. What more, it turns your handset into an HD television.
How to register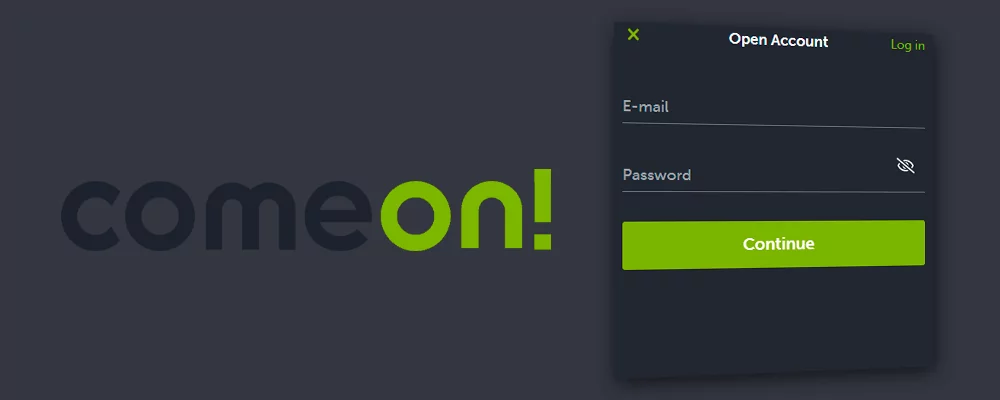 The registration process is not complicated either like the other applications.
To register, you need to visit the ComeOn website at www.comeon.com
Tap on "Open Account" and proceed to enter your Username and password details on the provided form.
Click next and you will be brought to a new form where you fill in your name, phone number, and email address. Hit next
A verification message will be sent to your phone
Verify your account and your account is live now. You can start playing.
However, customers can also download the ComeOn apps for Android and iOS and install their mobile devices, whichever is applicable.
The process to install the apps differ depending on one's operating system, and include;
ComeOn app for Android
Visit the ComeOn company website and locate the "mobile app" link.
Click on the button that says "Download" to receive the ComeOn apk file on your device. This download prompt will include a security warning. This is okay, as Android devices by default do not allow the download of apps from unknown sources.
Unlock the download by visiting your phone's settings, go to apps, special access then click install from unknown sources to start the download.
The file will be downloaded to your phone's files folder.
To install, you will visit your phone's folder using the file explorer and locate the downloaded file
Tap 'Install' and the application will begin to install. Follow the on-screen instructions until the installation is complete
You can now launch the App.
ComeOn app for iOS
Similar to the Android app, the ComeOn iOS App is packed with a range of products to make the experience smooth.
It also runs on powerful frameworks and powers a host of other online games that keeps a sporting fan occupied throughout. The App is easy to navigate and contains features that enhance your betting experience.
To download to your IOS device, do the following;
Ensure your device is ready for download by signing in with your iCloud Account
Head over to the App store and search for ComeOn App from the search box
Once you locate, the App, tap on the Download Icon and grant download rights by verifying it with your password
The App will download and install automatically as you wait
Once installed, you can go ahead and start playing by signing in or registering an account. The registration process is similar to the web application
How to Deposit and Withdraw Funds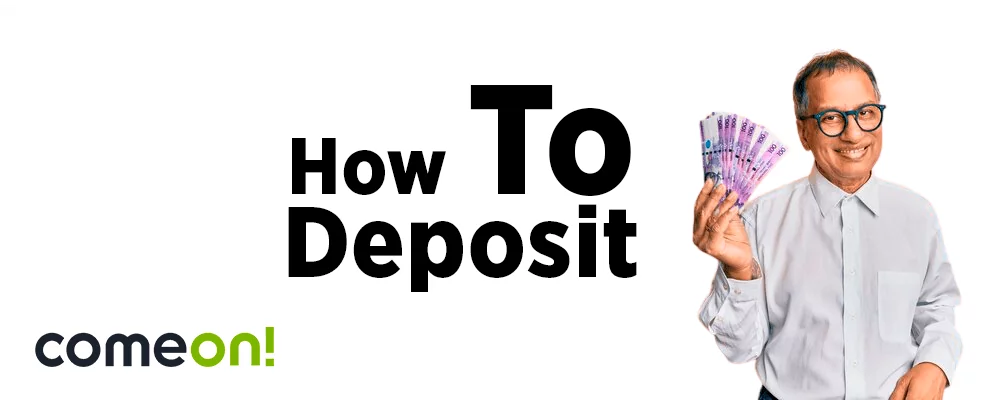 ComeOn charges a small fee to fund your account. But their rates are far much better than the other betting sites. To fund your account, do the following;
Open a Skrill Account and connect a credit card to your Skrill Account. You can also use direct bank transfer, Paysafecard, e-wallet, and a host of new payment gateways presently in the market.
ComeOn App User Reviews
User Boy remarked on Trustpilot that he put in money and got money
"Amazing app and fast money transfer", remarks Pankaj in
ComeOn App FAQs
Is ComeOn a trusted site?

How quickly can I transfer funds?

How sure am I that my information is safe?